Description
Cradlepoint R1900 – Ruggedized 5G Edge Router for vehicles
Optimized for in-vehicle networking, the Cradlepoint R1900 router offers superior robustness, performance, security, connectivity and usability in a purpose-built, compact design. The IP64 rated R1900 offers wireless and wired connections in a robust, design with optimal port placement to facilitate installations in even the tightest areas:
The Cradlepoint R1900 is the first product to use Cradlepoint's second generation 5G architecture, supporting nationwide coverage (low-band) and capacity (mid-band) networks at speeds up to 1 Gbps and gigabit LTE. Powered by the Cradlepoint NetCloud service, the R1900 delivers full 5G performance, enterprise level security and SASE support, IoT connectivity with Bluetooth and edge computing for Microsoft Azure IoT Central or AWS Greengrass environments.
GPS WITH DEAD RECKONING AND OBD-II INTEGRATION
The R1900 offers accurate GPS with dead reckoning and OBD-II integration. It automatically uploads location and telematics data to NetCloud Manager and back office applications such as fleet management and computer aided dispatch (CAD). Using location-based services within NetCloud Manager, administrators can easily track and trace vehicle locations and routes in real time and determine LTE and 5G cellular coverage over a traveled area.
ONLINE ANYTIME, ANYWHERE
Mobility is a demanding environment to ensure application performance. Vehicles, such as patrol cars or city buses, constantly drive in and out of LTE and 5G mobile coverage and Wi-Fi zones, affecting the available WAN bandwidth. Cradlepoint NetCloud for Mobile provides non-stop availability and control over application performance, whether it's uploading video over Wi-Fi in a garage or parking lot or switching between LTE and 5G coverage on the go.
"In-vehicle routers, such as Cradlepoint's R1900, provide an ideal platform to connect remote workers with rich 5G-compliant cloud applications that increase mission capabilities, help save lives and reduce property damage."
EXPANDABLE CONNECTIVITY THROUGH MANAGED ACCESSORY DOCKS
The R1900 comes with several managed accessories to expand connection options (sold separately). They include a 4-port gigabit Ethernet switch with POE (RX30-POE) and a second modular modem (RX30-MC) for redundant cellular connections. These optional accessories fit the same compact size as the R1900 and can be installed at any time.
CRADLEPOINT NETCLOUD MOBILE PACKAGE
This Cradlepoint R1900 series 5G router is part of a NetCloud Mobile Package, an all-encompassing network service consisting of support, hardware and software services. Cradlepoint NetCloud Mobile Package is a next generation management and application platform, providing real-time network management via secure connections. NetCloud Manager integrates cloud management with Cradlepoint devices to improve productivity, increase reliability, reduce costs and improve the intelligence of network and business operations.
These purpose-built endpoints are sold as part of a NetCloud package, the benefits include: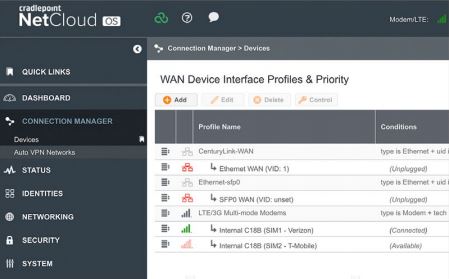 Continuous improvements to modem and software functions
Zone-based firewall and VPN
Dashboard for modem data usage and predictive alerts
Remote business information and cloud management
Real-time troubleshooting tools and diagnostics
Purpose-built hardware for 5G performance
24 × 7 business support and limited lifetime warranty
DIFFERENCES BETWEEN NETCLOUD ESSENTIALS & ADVANCED
Looking for even more advanced features for the R1900 such as 5G mobile coverage map and location tracking? Then view the Advanced Series or the Essentials + Advanced Series here.

FEATURES
Deploy the ultimate 5G NR / Cat 20 LTE mobile networking solution
Add a second cellular modem for simultaneous dual-carrier connectivity
Take advantage of Wi-Fi 6 for the best possible connections
Integrate into AVL systems with discrete GNSS and dead reckoning
Extend your deployment with powerful edge compute capabilities and container support
Enable unified edge security with application aware multizone firewalls, IDS/IPS, and Internet security
Define policies through centralized cloud-based management for easy deployment at scale
MOBILE BROADBAND KIT FOR THE CRADLEPOINT R1900
The MBK-1900 Fully Integrated (FI) is a 5G/4 LTE solution that is ideal for customers who need a quick mobile Internet solution for applications within vehicles, events and mobile command units (MCUs).
This kit is specifically designed for the Cradlepoint R1900 5G where there is room for a 2nd modem and a LifePo4 Battery. The kit further includes fully integrated WiFi, GPS and 4/5G antennas and a LifePo4 battery power management system.
This kit is also available with an integrated Cradlepoint R1900 router.
Specifications
Modem: Built-in 5GB NR FR1 low band, midband, and 4G LTE Category 20 modem – 4 x SMA cellular antenna connections
Ethernet ports: 4 GbE (LAN / WAN switchable)
GNSS / GPS: 1 x SMA GNSS antenna connector
USB ports: 1
Serial ports: 1
Bluetooth: Yes, built-in Bluetooth 5.1
Dual-Modem Support: RX30-MC
Throughput: 940 Mbps (firewall)
WiFi: Dual band, dual competitor; 802.11ax (WiFi 6)
PoE: Optional RX30-PoE Managed Accessory PoE Switch – 4 x GbE RJ45 ports with 60W PoE budget
Operating Temperature: -30 ° C to 70 ° C (-22 ° F to 158 ° F)
Dimensions: 172 x 148 x 41 mm
Weight: 0.98 kg
Supporting Documents
What's in the Box
R1900-5GB Router
GPIO & power cable, 2×2, 3 meters, 20AWG
Mounting supplies