Description
Sonim RS60
The Sonim RS60 is a fully rugged 6-inch barcode scanner and lightweight tablet. The device is ideal for scanning and fast communication in mobile environments. The RS60 is completely robust to withstand dust and water and is easy to clean / disinfect to keep workers safe. In short, the Sonim RS60 SmartScanner offers the ultimate all-in-one solution.
High capacity multi-shift battery
The multi-shif battery provides more than enough battery power to get through the day. It is also a replaceable battery, making the battery easy to replace.
Sunlight readable FHD 6 "display with touchscreen
The Sonim RS60 features an FHD 6-inch display with Gorilla Glass 3 and anti-fingerprint coating. The device has a very responsive touchscreen that is glove-friendly but also does an excellent job with wet fingers.
Integrated barcode scanner with 4G
The SmartScanner is suitable for scanning in all lighting conditions. Even worn tags or in low-light areas, the RS60 will be able to scan quickly and reliably. The RS60 features 4G LTE connectivity and provides a robust and fast connection for reliable communication.
Loud audio and Push-to-Talk support
The Sonim RS60's high-quality speaker on the front ensures that users hear any warnings clearly and communicate clearly in noisy environments. The SmartScanner also supports Push-to-Talk applications and provides instant communication, while customizable physical buttons allow.
Specifications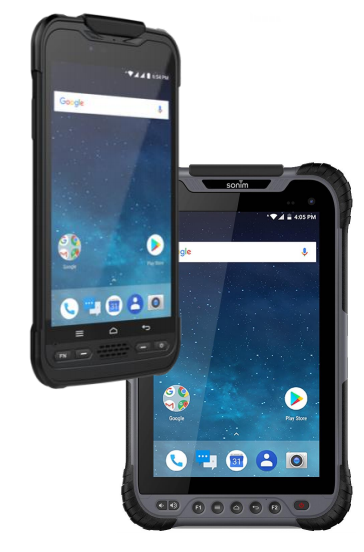 Operating System: Android 10
Chipset: Qualcomm MSM8953 Pro, Octa-core 2.2 GHz
Wi-Fi 802.11a / b / g / n / ac / e / i / r, Dual band 2.4 GHz / 5 GHz
Battery capacity 8000 mAh Li-Ion (30.4 Wh), removable
Quick Charge 3.0 charging via USB-C
Battery life: up to 22 hours | Stand-by: 30 days
Dimensions: 192mm x 91mm x 16.5mm
Weight: 396g
Robust Certifications: MIL-STD-810G; IP-67
Ambient temperature: -20 to +55 ° C
Storage: -40 to +70 C
Humidity: 0-95% RH, non-condensing
Display: FHD 6-inch, Gorilla Glass 3
Resolution FHD 1920 x 1080, readable in sunlight | Anti-fingerprint coating | Glove and wet touch mode
Microphone: 3 mic solution with noise canceling
Loudspeaker: facing forward; output 95db + Compatible with hearing aids
Supporting Documents