Description
RAM X-Grip Universal Holder for 7″-8″ Tablets with Ball
The RAM-HOL-UN8B consists of a spring loaded cradle and 1″ rubber ball connected to the back of the base. Included are extra easy access grip knobs, located on the back of the cradle for quick release of your tablet. The RAM-HOL-UN8B expands and contracts for perfect fit of most 7″-8″ tablets.
Features for the RAM Mounts RAM-HOL-UN8BU
Spring-loaded 'X' design with rubber caps sports great holding power without hiding your tablet; fits most 7″-8″ tablets and includes optional device tether for peace of mind during rugged use
Easy access grip knobs on the back of the holder allow for the quick release of your tablet
Includes 1″ B size rubber ball compatible with any B size RAM Mounts double socket arm; ball and socket technology allows for near-infinite adjustability
RAM Twist-Lock Suction Cup Base with Double Socket Arm
The RAM-B-166-103U consists of a 3.3″ suction cup twist lock base and standard length double socket arm for 1″ ball diamond bases. The suction cup base is designed to have a strong hold on glass and non-porous plastic surfaces, including RAM adhesive disks. The mount is designed with a RAM 1″ diameter patented rubber ball and socket system that has adjustment points at both ends of the double socket arm; this allowing for almost infinite adjustment and perfect viewing angles. The socket arm is compatible with all 1″ ball bases and adapters.
Features for the RAM Mounts RAM-B-166-103U
RAM Twist-Lock suction cup base is ideal for vehicle windshields and other nonporous surfaces
Includes B size medium length RAM double socket arm; ball and socket technology allows for near-infinite adjustability
Made of powder-coated, marine-grade aluminum and high-strength composite for durability and reliability in the most demanding environments
Specifications X-Grip Holder
Product line: RAM X-Grip
Ball and socket size B size
Component type: Holder
Dimensions holder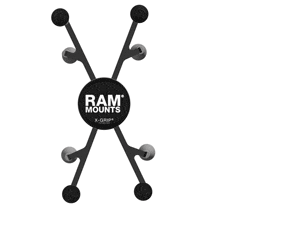 Width range: 6.4 – 14.6 cm
Depth Range: 2.2 cm
Load capacity: 0.9 kg
Specifications Twist-Lock
Holder function: Suction Cup
Product line: Twist-Lock
Ball and socket size: B size
Arm length: Medium arm
Dimensions holder
Suction cup diameter: 8.4 cm
Load capacity: 0.9 kg
Supporting Documents
What's in the Box
RAM-HOL-UN8BU
RAM-B-166-103U
Fixing material